Description
Digga 4 in 1 Bucket
The Digga 4 in 1 bucket has an extensive range to suit most machines – including skid steers, mini loaders, and tractors. Ideal for grading, scraping, grappling, dozing dirt or material spreading, and most construction work.
Standard Heavy Duty 20mm Floors
12mm and 16mm floors available on request
Side curved sections for greater bucket opening width
1 piece heavy duty fully welded 6mm grill/hungry board
Full range available from 880mm to high volume 2130mm
High visibility design: Clear vision of bucket edges
Optional reversible bolt-on cutting edges
Optional chisel or tiger teeth with pin on design
Grabbing teeth profiled on both front/rear overlap for greater grip of logs or other debris
Features & Benefits
Digga 4 in 1 buckets come packed with really practical features. Hover your mouse over the features´ 'plus' symbol on the diagram below to reveal the respective benefits.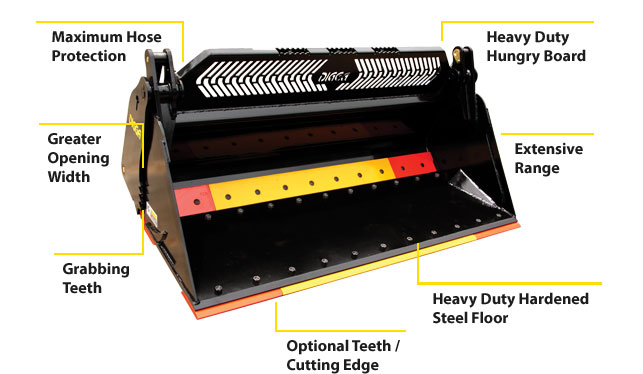 4 in 1 Bucket Specifications
| SPECIFICATION | STD | STD | STD | STD | STD | STD |
| --- | --- | --- | --- | --- | --- | --- |
| Bucket Cutting Width | 880 mm | 900 mm | 1070 mm | 1100 mm | 1130 mm | 1225 mm |
| Weight | 147 kg | 150 kg | 162 kg | 166 kg | 172 kg | 186 kg |
| M3 Volume | 0.1 | 0.11 | 0.12 | .0125 | 0.127 | 0.14 |
| SPECIFICATION | STD | STD | STD | STD | STD | STD |
| --- | --- | --- | --- | --- | --- | --- |
| Bucket Cutting Width | 1300 mm | 1450 mm | 1550 mm | 1600 mm | 1650 mm | 1680 mm |
| Weight | 195 kg | 330 kg | 345 kg | 352 kg | 360 kg | 370 kg |
| M3 Volume | 0.15 | 0.28 | 0.3 | 0.31 | 0.32 | 0.325 |
| SPECIFICATION | STD | HV | HV | HV | HV | HV |
| --- | --- | --- | --- | --- | --- | --- |
| Bucket Cutting Width | 1727 mm | 1727 mm | 1800 mm | 1880 mm | 2000 mm | 2130 mm |
| Weight | 380 kg | 387 kg | 410 kg | 425 kg | 432 kg | 450 kg |
| M3 Volume | 0.33 | 0.38 | 0.4 | 0.42 | 0.46 | 0.5 |